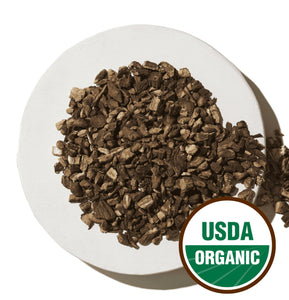 Organic Crushed Burdock Root . (4 Oz Bag )
Regular price
$17.99
Sale price
$14.99
---
Burdock root is a vegetable that's native to northern Asia and Europe, though it now grows in the United States, too. The deep roots of the burdock plant are very long and either brown or nearly black on the outside.
Burdock root has been used for centuries in holistic medicine to treat a variety of different conditions. Traditionally, it was most commonly used as a diuretic and a digestive aid.
Now, researchers have discovered numerous potential uses and health benefits for burdock root. These benefits may be extensive enough to warrant using burdock root as a complementary treatment for certain conditions.
Benefits Of Using Burdock Root Powder :- 
- Powerful Antioxidant :- burdock root contains multiple types of powerful antioxidants including quercetin, luteolin, and phenolic acids.
Antioxidants protect cells in the body from damage due to free radicals. They can help treat and prevent a number of different health conditions. The antioxidant action helps reduce inflammation. A 2014 study found that burdock root reduced inflammatory markers in the blood for patients with osteoarthritis.
- Burdock Root effectively detoxifies blood and promotes increased circulation.
- It may inhibit some types of cancer.
- Increases Libido.
- Reduces Inflammation,
- Burdock root has long been used to treat skin conditions like Acne, Psoriasis &  Eczema. The anti-inflammatory and antibacterial properties of the       root can help resolve skin issues when it's applied topically to the skin.
- Regulates Blood Pressure.
- Effective Diuretic (Helps rid the body of excessive Water ). 
* DAILY SERVING * 
Pour Hot 8-12 Oz of water onto 1-2 Tsp of Tea and steep for 5-10 Minutes.
* PRECAUTIONS * 
Burdock root is a natural diuretic, so you shouldn't take it if you're dehydrated. You also shouldn't take it if you're also taking other diuretics or water pills, as it can increase

 

dehydration.
If you're allergic to chrysanthemums or daisies, you may be at an increased risk of having an allergic reaction to burdock root and should avoid it.
Pregnant women or women trying to become pregnant shouldn't take burdock root or supplements.